Hello Friends!
My life today as a busy commercial & residential real estate agent is eventful to say the least! That being said, it pales in comparison with my insanely busy days own- ing and operating my pizzeria; Grandma Rose's Pizza on Graham Ave. in Greenpoint. For 8 years we turned out some of New York's best pizzas, pasta and so much more! Since I have been thinking about those days a lot lately I figured why not make pizza with all my Juniper Berry friends for this edition!
Allow me to set some ground rules for you when making pizza at home. First thing to remember, the dough is the show. Get your dough right and the rest is all is gravy…. or should I say "sauce"! Once you have your dough mastered there really is no limit what types of pizzas you can make. For today I am offering you the "Original NY Style" as well as my top 3 favorites but really, you can make any kind you like. Let us start with the dough making process:
Pizza Dough
What you will need:
• 11 cup King Arthur Organic AP Flour • 1 1⁄2 Cups King Arthur Bread Flour • 1 Cup Warm Water
• 1 Package (.25 oz) Dry Active Yeast • 1 1⁄2 TSP White Sugar
• 1 1⁄2 TSP Kosher Salt • 3 TBSP Olive Oil
In a small bowl add your warm water, sugar & yeast. Mix and let sit until the yeast starts to bubble.
Next add you flour and salt in a bowl and mix vigorously. Add in your olive oil and yeast mixture and mix until the dough is a smooth consistency. In a separate bowl grease well with olive oil and let your dough rest. Brush the top of the dough with oil as well and let proof for 1 hour. Uncover the dough and punch down allow to rest another 30-60 minutes and your dough is ready to use. Cut into around 4-6 portions depending on your desired size pizzas.
Chef John's Classic Pizza Sauce
What you will need:
1 – 12 ounce can of Tuttarosa whole peeled plum tomatoes
2 TBSP Tomato Paste
1 TSP Kosher Salt • 1 TSP Sugar
1 TSP Dried Parsley • 1 TSP Dried Basil
1 Clove Peeled Garlic
Blend all ingredients until smooth. Store in refrigerator until ready to use. If you have leftover put on the stove and make a quick marinara for pasta! Always remember when applying pizza sauce to dough always use a nice thin coating and leave about a thumbnail or more of the edges clear so you can have the perfect crust every time.
Now let us make a classic NY Style Pizza! Stretch your dough into a circle, square or whatever shape you like. Skim-Coat with your fresh sauce, dust with a touch grated pecorino Romano cheese and top with whole-milk low-moisture mozzarella. You should see some red sauce through the cheese but not much. Bake on 400 degrees F for 15-20 minutes or until golden crispy and delicious.
Here are 3 of my favorite pizzas for you to try:
The Meat Lover
Start with a Classic NY Style Pizza and add Meatball, Sausage & Pepperoni Bake to perfection, and enjoy!
The Vegetable Supreme
In a bowl, add sliced zucchini, Brussel Sprout leaves, Sliced Shallots and Mushrooms. Dress with Olive Oil, Salt, Pepper, Oregano and fresh minced garlic. Spread out on a sheet tray and roast until the veggies are tender and slightly car- amelized.
Add the veggie mixture atop a Classic NY Style Pizza and finish with shaved pecorino Romano once out of the oven.
Pizza Bianco Aglio e Olio
This is an amazingly light and decadent pie and here is the way to make it. In a sauce pan, add 15 peeled garlic cloves and cover in olive oil. Add salt, pepper, 1 sprig thyme and rosemary and let come to a very light bubble. Once the garlic is fork-tender, strain the oil. Keep your oil in a squirt bottle. You can use it not only on pizza but on anything you are cook- ing or marinating. Remove the herbs and blend the roasted garlic with 8oz of whole milk ricotta. Add a touch of salt, pepper, crushed red pepper flakes and a drizzle of the infused garlic oil and make sure the ricotta is fully blended.
Stretch out a pizza and add only mozzarella, next add dollops of the ricotta mixture in concentric circles and bake to perfection, upon exiting the oven drizzle with infused oil and enjoy!
Now for the dessert!
Since the oven will be cranking and the flour will be out on the table, let us make some Almond Biscotti! Here is what you will need: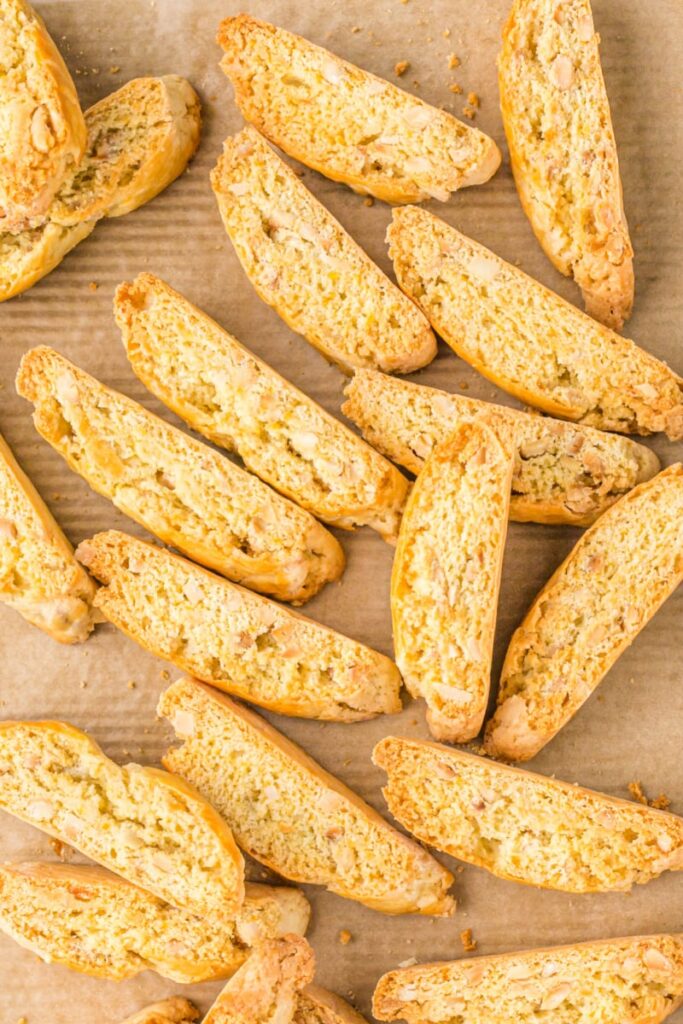 Almond Biscotti
• 1⁄2 Cup Softened Butter
• 2 1⁄4 cup King Arthur AP Flour
• 3/4 Cup Sugar • 2 Eggs (room temperature)
• 1 TSP lemon Zest • 1 TSP Orange Zest
• 1 TSP Baking Powder • 1⁄2 TSP Almond Extract
• 1⁄2 TSP Vanilla Extract • 1 Cup Thin Sliced Almonds
First, whip your butter and sugar until fluffy & creamy (emul- sified). Next beat in your eggs, zest and extracts. In another bowl mix your flour and baking powder well and then incor- porate your wet and dry ingredients. Mix until the dough is a tacky consistency and finally add your sliced almonds and finish mixing. On a parchment paper lined sheet tray for 2 loafs about 3⁄4" high. Form it well and mold it well. Bake on 350 degrees F for 20-25 minutes or until golden in color. Remove from the oven, the loaves must cool for a minimum of 30 minutes. Cut on a bias with a serrated knife and put the pieces back in a 325 degree oven for an additional 12 – 16 minutes. Cool and enjoy your homemade biscotti!
Spring is in the air! It is unbeliev- able how fast time flies. As we get ready to celebrate Easter, I want to take a moment to thank God for everything, especially for the gift of His Son Jesus Christ, my family, our nation, and this great commu- nity we all call home. It is an honor being able to cook with all of you year-round! Happy Easter to all!