RIDGEWOOD, QUEENS, NY – (June 21, 2022) – Ester, a welcoming wine bar and event space by operator Ashley Newsome and designer/owner Kermit Westergaard, opens on June 23rd in Ridgewood, Queens. The intimate, candle-lit wine bar on the corner of Woodward Avenue and Harman Street fits right into its charming Ridgewood neighborhood, while the connecting event space, sun-drenched and verdant by day and glowing with wood burning firelight by night, is like the oversized living room of every New Yorker's dreams.
Open 5 p.m to midnight, Thursday-Monday, Ester (named after Newsome's father) invites neighborhood residents and beyond to enjoy a robust selection of natural wines and small plates in a serene, understated setting. The wine and food menu are intentionally designed to be accessible to all budgets and wine is offered by the bottle, glass, and half-glass. An offering unique to Ester is that each evening's first patrons get to choose which bottles will be available by the glass that evening. As such, adventurous oenophiles are encouraged to come early.
Newsome, formerly the General Manager and wine buyer of the Marlow Collective's Roman's in Brooklyn, has given the same thoughtful attention to the wine list and small plates menu that Westergaard has given to the space design. Newsome notes, "We offer simple wines from producers who follow natural and biodynamic farming practices. You can expect an ever changing bottle list with wines mostly from Europe. We especially love deep colored rosés, coastal red wines from Italy, white and skin contact wines from Austria, Slovenia or Catalonia and anything that reminds us of a dry sherry." Local Ridgewood beers will also be on tap. In addition to sweet and salty nuts, charcuterie, and simple items like jamón with roasted tomato and butter on toast, highlights on the small plates menu include creme fraiche topped with salmon roe and served with potato chips; rich mushroom broth with sake and black rice; and the not to be missed panna cotta drizzled with husk cherries and fresh mint.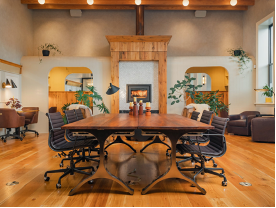 The inviting bar and event space, both meticulously designed by Westergaard, are detailed with tin ceilings, a zinc bartop, exposed beams, handmade Moroccan tiles, repurposed wood paneling from retired water towers, pintucked leather banquettes, unlacquered brass wall detailing, and a reclaimed oak wine refrigerator behind the bar that's accessed by an antique rolling ladder. In a nod to the building's former life as a textile mill with a speakeasy and bowling alley in the basement, the wine bar's central standing table sits atop the iron legs of the former knitting machine. Adding to the ambiance is an upright player piano that resides in the wine bar and a baby grand that holds court in the event space. Live music programming will be offered in the fall.
"Ashley and I want everyone to feel welcome here," said Westergaard. "Whatever your story, whatever your day, when you walk through our doors we want to transport you to the warmest, most welcoming place you've ever been." Newsome added, "We believe wine should be accessible and shared often. May you drink good wine and share it with as many old friends, new friends, lovers to be and lifelong loves as often as possible. We hope everyone will stop by and let us spoil them."
About Ester
A wine bar and event space in Ridgewood, Queens, Ester is a new neighborhood home to gather, build, and deepen connections over good food and wine. The wine bar is open from 5 p.m. to midnight Thursday through Monday. Located on 467 Woodward Ave near the Dekalb L stop or Forest M stop. Ester is walk-in only. For large parties, inquire here. Ester can be found on Instagram at @ester.nyc or online at www.ester.nyc. 646-543-6430.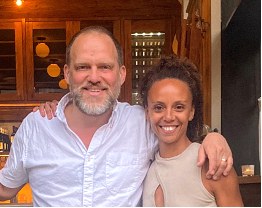 Kermit Westergaard
Kermit is a multidisciplinary designer, builder, and entrepreneur. His real estate development company Hooper & Keap is based in Ridgewood, Queens, where he has worked to build a small-business community. He also operates a boutique design/build company that serves both commercial and residential clients. Notable projects include La Colombe Cafe's flagship in NOHO; Rolo's in Ridgewood; Variety Coffee Roasters in Chelsea; and Ester, his first food and beverage business which he is launching in collaboration with operator, Ashley Newsome.
Kermit is also the founder of Woodward Residency, a pilot Arts Guest Residency program (housed in the same building as Ester) which offers 3-months of free workspace to a rotating community of artists, writers, composers, designers, and more. Kermit raised his children in Ridgewood, and in 2013, he founded a non-profit children and adult's tennis club for Ridgewood community families. Kermit is married to an Iranian-American children's book writer/illustrator and is the proud father to his three boys.
Ashley Newsome
The operator at Ester, Ashley developed her management chops and wine philosophy from the Marlow Collective (Diner, Marlow and Sons, Roman's, Achilles Heel, Shewolf and Marlow and Daughter's Butcher shop), where she trained under Chef David Gould, Sommelier Lee Campbell and Artist/Restaurateur Andrew Tarlow. Until recently, Ashley worked at Roman's, where she was the General Manager and wine buyer for the past ten years. Ashley's early influences come from Peter Hoffman, and then General Manager Tom Budny during her tenure as a bartender and server at Savoy, the beloved (and since closed) New American restaurant in Soho.