There has been much focus on the Queens Bus Network Redesign (and with good reason) but there are also Brooklyn bus routes that are currently under revision and several of them affect our area as well. It's important to be aware of the changes and provide feedback before it is too late. Two detrimental changes to Brooklyn bus lines are presented here.
B38 – Metro Ave branch (above)
It's quite disingenuous for the MTA to claim that the discontinued Metro Ave branch of the B38 would be "served" by the two other bus lines that it currently connects with. The B38 provides more frequent service than the B57 for western Maspeth residents. The Q54 along Metro Ave and the B57 along Flushing Ave will not be rerouted to cover parts of this route should this proposed change take effect.
This branch serves the "Linden Hill" section of the area, so named because it's on a giant hill – one that's difficult to ascend. It also serves hundreds of students at Grover Cleveland High School as well as visitors to Grover Cleveland Park and Linden Hill Cemetery. Eliminating it is just a bad idea.
The map below shows the proposed rerouting of the B13 bus which would no longer travel through Ridgewood and Glendale and then down Cypress Hills Street to Brooklyn. Instead, it would use Cypress Ave on the Ridgewood/Brooklyn border, then head down Vermont Place and Highland Blvd to Jamaica Ave. This would supposedly provide desired access to the Ridgewood Reservoir, however, there are multiple problems with this plan, the chief one being that bus service to the Liberty Park section of Glendale would be discontinued almost completely. Other concerns relate to the construction of bus stops and traffic restrictions on the roads by the Ridgewood Reservoir.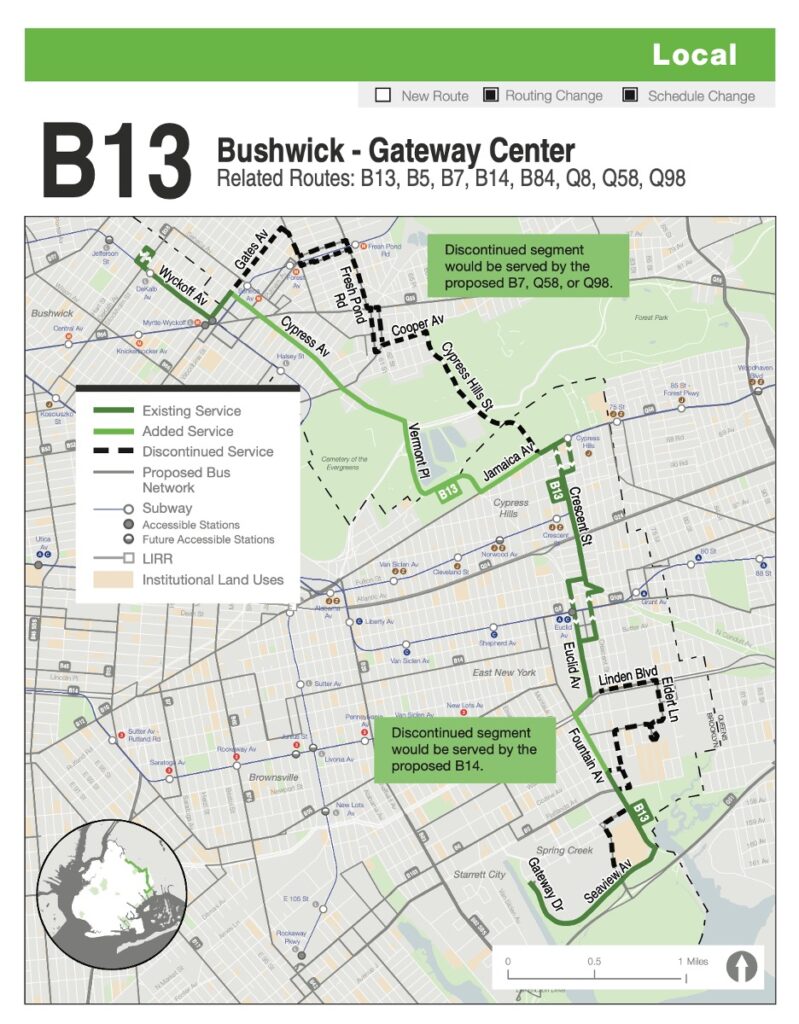 • The road prohibits all but passenger cars, likely due to the narrow width of the road. These signs are posted at the entrance to the park at Jamaica Ave and Highland Blvd. It may not be safe for regular bus traffic.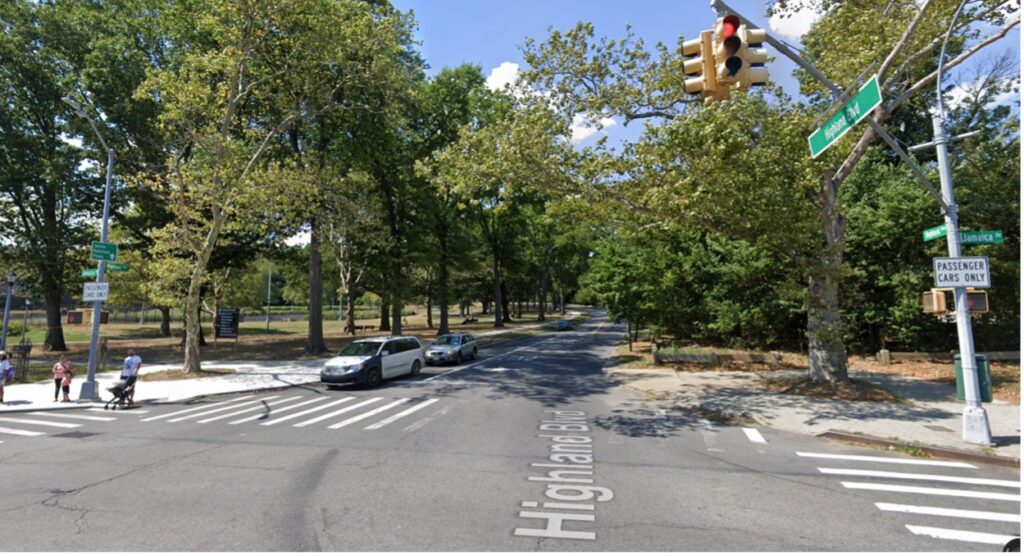 • There are speed humps on Highland Blvd. These are prohibited along bus routes. It would be a bad idea to remove them. Installing speed cushions to facilitate bus travel would encourage truck traffic.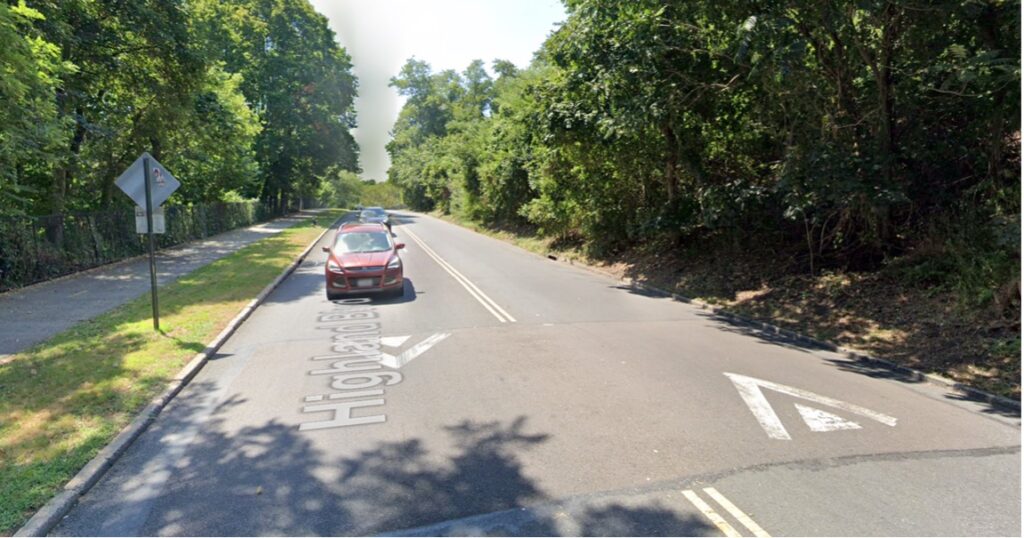 • There is no room for the bus to pull over. The MTA's plan is to provide a stop at the "VERMONT PL/HIGHLAND PARK GREENWAY" but the road is one lane in each direction with guardrails lining each side along the entire length of Vermont Place. Installing a stop here would either require a costly redesign and destruction of parkland or have the bus come to a dead stop in the middle of the road backing up traffic.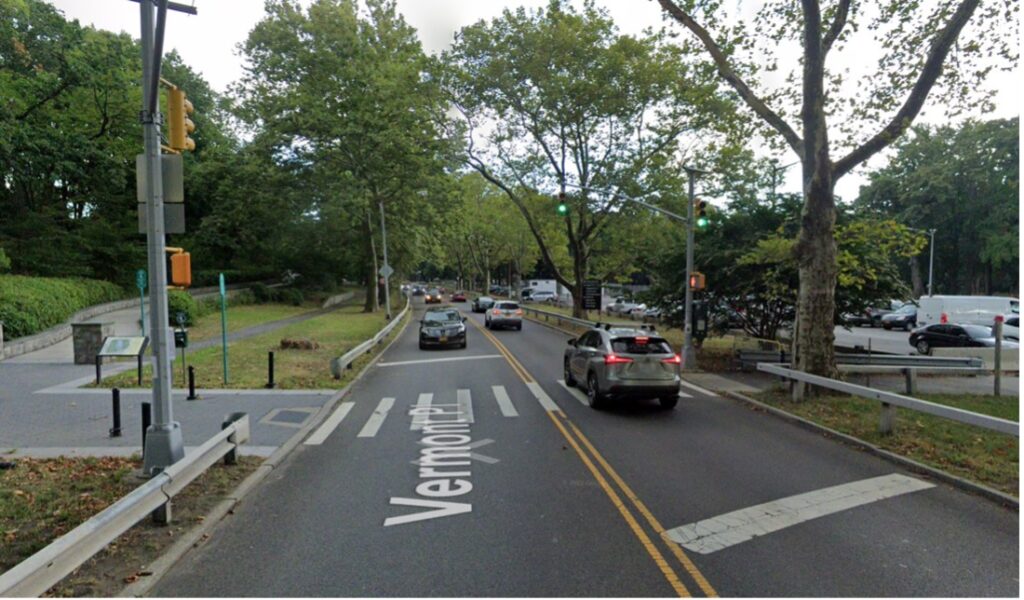 There are several other Brooklyn lines that serve our area, and the MTA is currently accepting feedback on their redesign proposal for the entire borough of Brooklyn.
If you take a "B" line bus, you may want to check out their plans here:
new.mta.info/project/brooklyn-bus-network-redesign
An update on the Queens Bus Network Redesign is expected this spring with further feedback opportunities.
So, make sure to watch your Bs and Qs!