As part of her 2022 "State of the State" address, Governor Kathy Hochul introduced the idea of a new rapid transit passenger line from Bay Ridge, Brooklyn to Jackson Heights, Queens utilizing the Bay Ridge and CSX freight rights-of-way. The CSX portion runs through our area and the entire line would continue to carry freight while providing passenger service. The proposed line, based on a 1990s Bronx-Queens-Brooklyn idea by the Regional Plan Association known as Triboro Rx, has been marketed as a "game changer" for people living in Brooklyn and Queens areas underserved by subway lines as it is projected to eliminate the need for traffic-delayed bus rides for many. It will supposedly connect to "up to 17 subway lines" and present an additional crosstown option. (The G line is currently the only full train route that does not enter Manhattan.) It is projected that the new line would be a 14-mile, 40-minute ride from end to end and serve 74,000-88,000 daily riders, many of whom would prefer not to make a long trip through Manhattan on their way to or from southern Brooklyn. While this has generated a bit of excitement, the devil, as always, is in the details. Let's look at the stops on the first half of this potential line.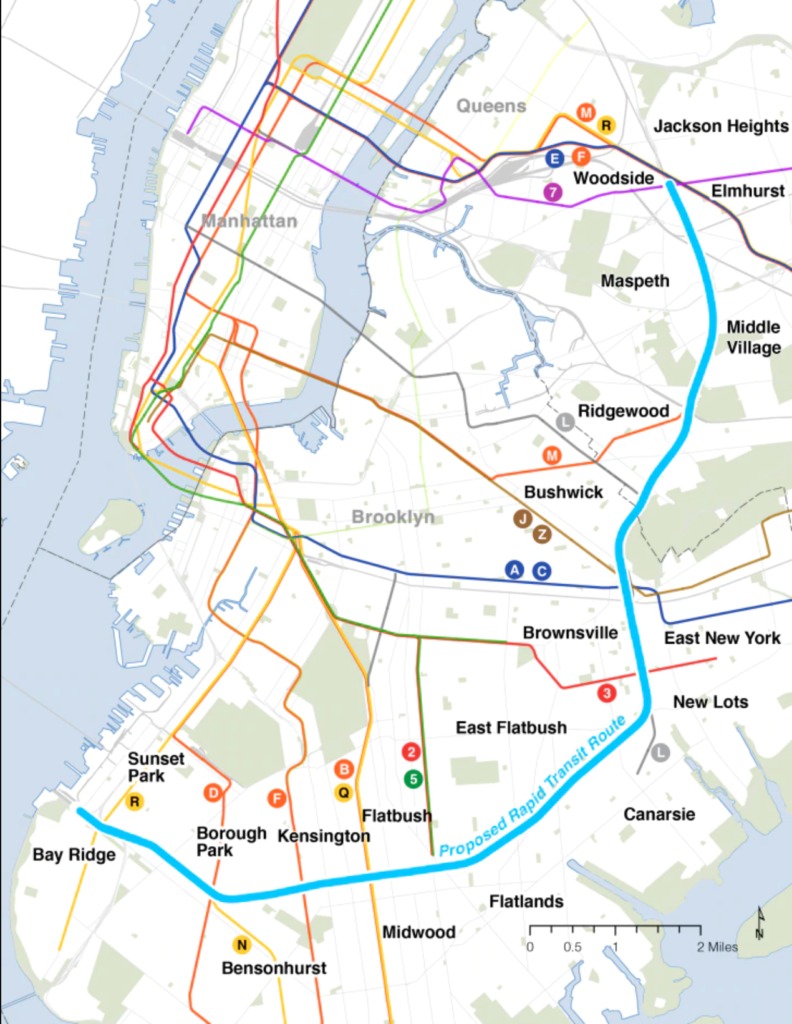 The Proposed Stops
Jackson Heights – As per the RPA proposal (pictured above), the new line will stop at Roosevelt Ave and is not a transfer point. In Hochul's plan, it's where the line starts, with a promised connection to the 7 train as well as the express E & F and local M & R lines. On paper, this sounds promising. However, upon closer examination, we notice that the CSX line passes under Roosevelt Ave just east of the BQE. This is several blocks away from the station hub. This would mean that an elaborate (underground?) transfer point would have to be constructed to connect the current subways with the new line, and that alone may break the bank. Plus, who wants a lengthy walk to switch trains?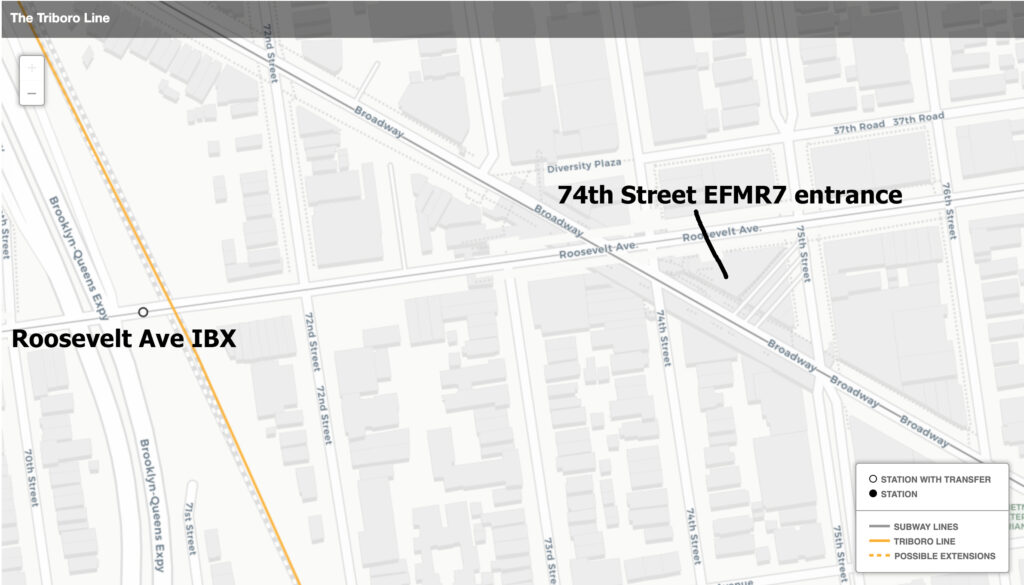 Queens Blvd – The next stop on the line would be Queens Blvd at around 74th Street on the Winfield-Elmhurst border. You may be familiar with this spot where an arched viaduct crosses high above the boulevard (photo below). Surrounding this proposed station are St. Mary's-BVM Church, several hotels that have been turned into homeless shelters, and a slew of automotive businesses. It's not a very developed area, but even with a high-rise future, there likely would be low ridership at this station because there is no transfer point and it's not really a "destination."
Grand Ave – Next stop, the Maspeth-Elmhurst border. A station is proposed for Grand Avenue next to Elmhurst Park. This area has fast become storage facility central. Also in the vicinity are the Stop & Shop strip mall and Maspeth High School. This stop is not centrally located, and most Maspeth and Middle Village residents would still have to take a bus or drive just to get to this station. It's not clear how many would forego their current commutes to do this. South Elmhurst residents would likely continue to opt for the Grand Ave-Newtown station on the M/R lines.
Metropolitan Ave – The only other proposed stop in our area is at Metropolitan Ave. The CSX tracks run right next to the M line here, providing a good opportunity for a transfer between the two. However, if you live in Maspeth or Middle Village but aren't near the Grand Ave stop, then you'd still have to make your way to Metropolitan Ave on foot, by bus, or by car to ride this line. There are currently multiple bus lines servicing this stop and if you need one to get there now, a new rapid transit line won't change that. How many commuters would take the new line from this point to southern Brooklyn? It appears most commuters transfer to Manhattan bound trains at Myrtle-Wyckoff (L), Broadway-Myrtle (J) or their final destinations are somewhere in Manhattan.
Fresh Pond Road-Myrtle Ave – This proposed station would not connect to any other train line. The M line is a few blocks north on Fresh Pond Road and the L is a bit further west down Myrtle. It seems the people in this area are already served well by rapid transit and the L parallels this line for several stops after this point. Nice to have? Maybe. Necessary? Not really.
Wilson Ave – The Wilson Ave stop on the L train is right next to the freight line, providing another excellent opportunity for an easy transfer. One can already transfer to the L from our area via the M, so it likely wouldn't save a local person much time, but for those living along other parts of the L who need to get to southern Brooklyn, it might make sense. However, there are two more L transfer opportunities further down the line. This stop is next to a group of large cemeteries which limits ridership.
East New York – It's unclear why this transfer point is being called "East New York" as the L station at this location is called "Atlantic Ave," but the East New York LIRR stop is also near here. One needs to exit the subway and walk across the street to enter the LIRR station. The west end of the LIRR line ends at Atlantic Terminal near the Barclays Center, which an IBX rider would generally not pay extra to switch to since multiple subway lines also stop there. The other direction takes you to Jamaica Center and points east. If this is your route, there is an existing transfer from the J train at Sutphin Blvd to the LIRR at Jamaica Center. Unfortunately, there seems not to be a J transfer anywhere along this new route, but you can switch to it from the L at Broadway Junction or the M at Myrtle-Broadway. More useful would be a transfer from the new line at Broadway Junction for access to the A, C, J, Z and L lines, but that station is bypassed in these grand plans for some reason.
Livonia Ave – There is already a so-called "transfer" here between the L and 3 lines. However, this is nothing more than a free MetroCard swipe between two stations that are not currently physically connected. You need to exit the L at Livonia to transfer to the 3 at Junius Street. At one point this was part of my daily commute. It isn't fun. Both are outdoor elevated stations. There is a long walkway over a freight yard just to exit the L station and then you descend a set of stairs to the street, walk a block, and ascend the staircase of another elevated station to catch the 3 train. The MTA has been talking about constructing a direct transfer between the 3 and L for years and has a capital project scheduled for some time in the future. Now they're considering adding a third line into the mix. If they could make this happen, it would be a helpful connection for many.
What has been presented here is a summary of the stops along the part of the proposed route with which I am familiar. After Livonia Ave, the line would continue across southern Brooklyn along another freight line to Bay Ridge. At this point, the line runs east-west and would link several lines that run north-south. Without examining the specifics, this segment seems potentially useful to a lot more riders than the Queens portion. In the future, I plan to do an analysis of the other half of the line. But my reason for writing about the IBX at this stage is to present a general idea of what the MTA's goals are for the segment that would pass through our area and the enhanced freedom of movement it may – or may not – provide.
A very preliminary analysis
The cost of the infrastructure needed, including elevators, escalators, platforms, tracks, signals, etc. as well as potential quality-of-life impacts cannot be examined at this time because, as per the governor's press release, the MTA isn't sure yet whether the line would work best as a subway, light rail, or bus rapid transit. None of the right-of-way crosses at grade, so that works in the plan's favor. But passenger service operating alongside freight has its limitations.
The Regional Plan Association, the organization that first came up with the idea of this route and the stops along it, had this to say about the plan, "A student traveling from Jackson Heights to Brooklyn College would see their commute cut from 70 mins to 40 mins." That may be true, but is this a good enough reason to construct a new line when the current ones need funding and attention? How many students, or others, are making this type of commute? The MTA has studied the feasibility of bringing passenger rail service through Maspeth and Middle Village for decades and has always concluded that projected ridership numbers would not justify such a large expenditure of limited resources. Will this be any different, considering the challenges presented by the less-than-ideal physical locations of the proposed stations and the cost associated with creating transfer points? Daily ridership along this entire line is expected to average roughly about what the Columbus Circle station saw on a typical pre-pandemic day. Would that be worth it?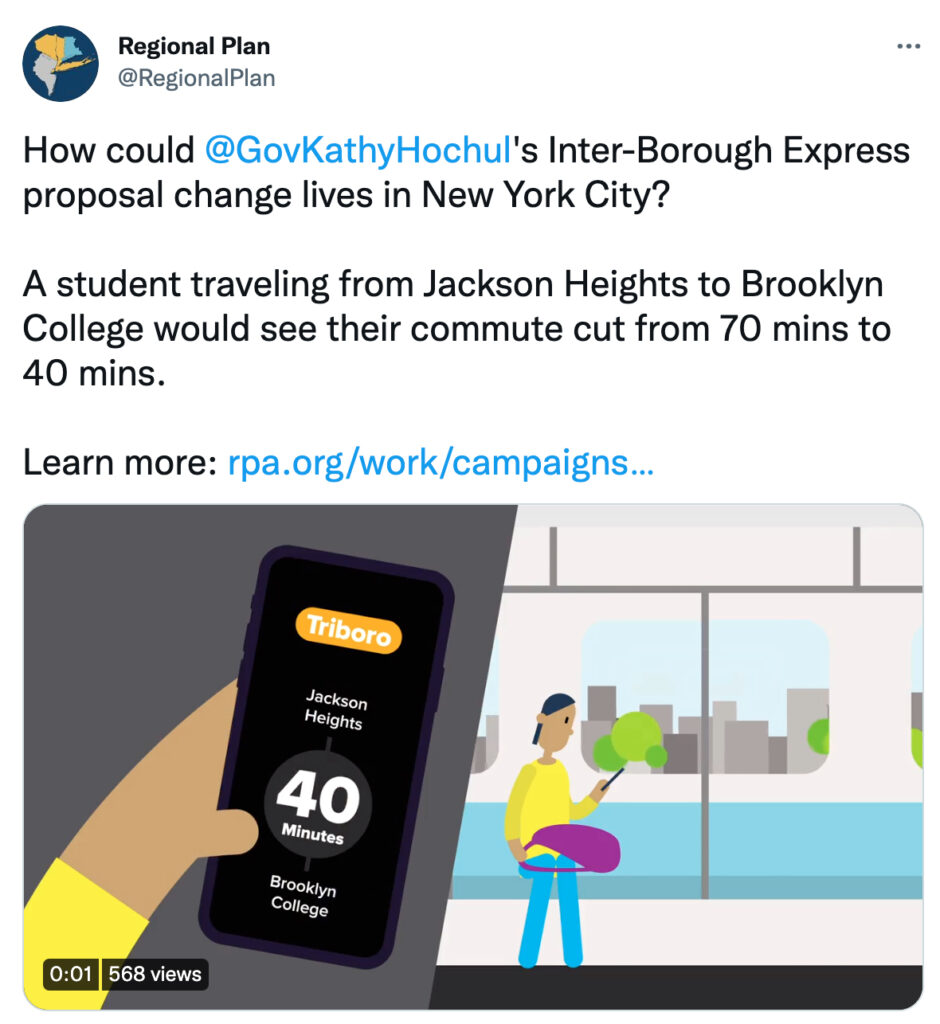 Add to this the fact that the governor dropped this gem: "In addition to jobs, the new line will connect large centers of retail in Queens and Brooklyn, including the Jackson Heights and Middle Village shopping hubs, supporting small businesses and providing a foundation for more economic development." What part of Middle Village is a "large center of retail" or a "shopping hub?" The Metro Mall? Half of that will be occupied by Amazon and most of the rest is a BJs. The rest of the Metropolitan Ave retail section is much like that of other towns throughout the city, not really all that large, and while we love our local stores, they aren't citywide destinations. So, to what exactly was the governor referring?
This odd statement raises the question: Is this just one of those bold pie-in-the-sky election year announcements from a governor looking for a flashy project, hoping that enthusiasm for it will translate into votes? Or is this truly needed and financially feasible? Many years of taxpayer funded studies will no doubt be undertaken to find an answer.
Next stop: public engagement
After releasing some artistic renderings of stations along the proposed line, the MTA says the next step is to have community engagement sessions to obtain feedback. We'll keep you posted on when and where that will take place. The agency is also scheduled to release a new draft of its Queens Bus Network Redesign in the first quarter of this year and likewise will hold feedback sessions. Let's make sure both plans, should they happen, serve our needs.