The other day while walking along 63rd Drive underneath the Rego Park train trestle, I'd imagined that I heard a train stop at the abandoned Rego Park LIRR train station – a ghost train from summers past.
A Rockaway bound LIRR train, consisting of Tuscan red coaches with gold trim, pulls into the Rego Park train station. My parents and I, along with some PS 139 classmates and their parents, board the train. During the 1940s, not all of us had automobiles, and Jones Beach was far away. So, for many Middle Village, Rego Park, Glendale and other neighbors seeking summertime fun at the beach, Rockaway was the place to go and the LIRR was the way to get us there.
Our Rockaway bound train departs the Rego Park train station, then diverges from the main line at White Pot Junction. We are on our way to Rockaway. Our train follows the Glendale Cutoff (now the "forgotten spur" whose weed covered rusty rails haven't heard the rumble of a passing train since 1962), to the Parkside train station at Metropolitan Avenue on the Glendale-Rego Park border. My wife, Jean, said that she and her parents rode the Metropolitan Avenue trolley from Ridgewood to the Parkside train station where they would board a Rockaway bound train. Who knows? We may have ridden in the same train, in the same coach, as kids.
Leaving apartment complexes behind, we soon find ourselves surrounded by water – waves lick the timber trestle below (right). Fishermen in rowboats are almost in reach as we enjoy the salty breeze wafting into the open windows of the coach. I observe a twin-engine propeller plane land at Idlewild (now JFK) International Airport, in the distance beyond Jamaica Bay. On Cross Bay Boulevard a Rockaway bound Green Line Bus appears to crawl like a tortoise in a tortoise vs. hare race with our train. A few fishermen depart our train at Broad Channel, an island stop in Jamaica Bay.
We leave the bay behind and find ourselves on the Rockaway Peninsula, atop a concrete viaduct. The viaduct was built during the 1930s as part of a grade elimination project and is now utilized by IND A Line Rockaway subway service.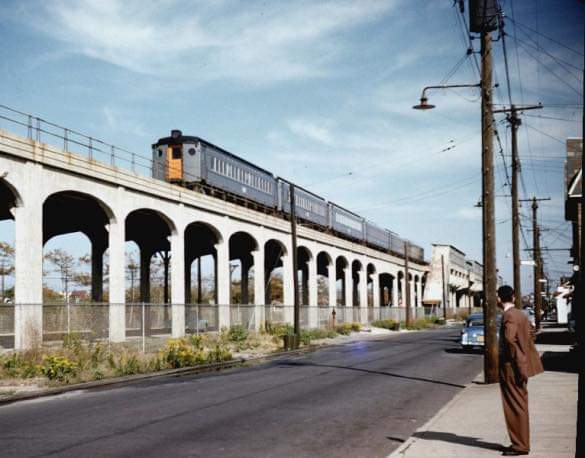 Some passengers depart our train at the Playland train station, eschewing a relaxing day at the beach for the thrill of the Cyclone roller coaster, and other delights of the Playland Amusement Park. After an enjoyable, speedy train trip, we arrive at the LIRR train terminal at Beach 116 Street-Rockaway Park. We are now one short block away from where we will exchange steamy asphalt for soothing sand and surf.
Along with other train passengers, we (part of a T-shirt and sneaker-clad army) pass a pizza parlor, penny arcade and bath house on Beach 116th Street before crossing the boardwalk, then step barefoot into soft soothing sand. I change from Clark Kent into Superman, substituting a blanket for a phone booth, then leap sans cape and tights into the roaring surf, shouting, "Next Stop, France!"
A fun-filled, sunny summer day at the beach was had by all.
Epilogue
On May 8th, 1950, a fire knocked out a portion of the 4.8-mile timber trestle over Jamaica Bay. The LIRR, lacking funds to repair the trestle, sold it along with its Rockaway Branch to the city for mass transit use. In 1956, IND A line Rockaway subway service began over a new concrete trestle. Triboro Coach (now MTA) was awarded an express bus (Q53) franchise replacing LIRR Glendale Cutoff train service. Today, Rockaway, with Playland gone, and high-rise condos sprouting up, is not exactly Riviera-on-the-Boardwalk, but with a swipe of the MetroCard or tap of the smartphone, "France" is but a short ride away.