One task that may provide a little extra income, as well as a service to the community, and something unheard of not too long ago is that of mask-making In this 'new' normal, wearing masks has become an essential part of our wardrobe, and as time passes, not just for the primary role of safety, but also of expression and fashion. Instead of the standard blue flimsy surgical masks, which tend to snap or break, people have designed and showcased their own styles, made of cotton, washable, and which project an image. Nowadays, out in public, it's common to receive complements for one's mask, especially if it's unique or edgy, as if making a statement about the personality of the wearer. Although some people have grown complacent, the future remains uncertain; most people taking the rather be safe than sorry approach until otherwise recommended. On one Elmhurst Community Social Media Page, a few area members have showcased their works, and received positive attention. I contacted two of these women, and asked them several questions, about themselves and the process of their work, and thought I'd share their stories in their own words.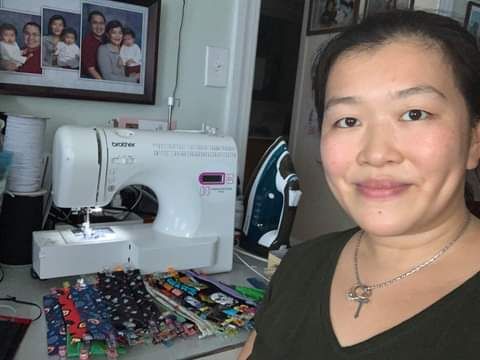 Mirlene W. Wong
"This mask making endeavor was originally spurred on by the shortage of PPE facing front line workers. People who were able to sew were encouraged to take their machines out, and volunteer their time to make reusable and washable masks to be worn over medical N95 masks to make them last longer. My first batch of masks was donated to a speech language pathologist and her co-workers. Messages of heartfelt appreciation showed how much these masks were needed. Four months later, and I am still measuring, cutting, and sewing. I did not have prior experience making masks. Getting started was the toughest part of this creative process. Back in March, there were many unknowns, but also a lot of conflicting information. I did not know which type of fabric would be best (100% cotton, flannel cotton, mix of polyester and cotton, etc.) The effectiveness of cloth masks was also being questioned. After extensive research and practice sewing straight lines, I was confident in my decision that pleated –style 100% cotton masks were the way to go. I am a full-time Mom to three munchkins (and a dog). I did have a position in the corporate world before I became a Mother. Most people think I have a big space dedicated to sewing with an industrial-sized machine, but I only have a portable Brother CP7500 sewing machine that I acquired about ten years ago. It has such a small footprint that I have it out all the time on my desk. It is amazing how strong this small piece of machinery is. Sewing masks has been part of my daily routine. I do believe this has been a crucially important task, not only to raise awareness of the importance of wearing a mask, but also to show appreciation to those who put their lives on the line on a daily basis. I mainly sew at night, once the kids have gone to bed.
I was born and raised in Paris, France. I came to New York at the age of 19 as an international student. I liked the city so much, I decided to stay and become a New Yorker. I have resided in Queens since my arrival. (Ms.Wong makes her home on the Maspeth-Woodside border). I have been receiving daily requests since April. Requests come from family, friends, essential workers and strangers from community Facebook groups who are looking for masks for themselves and/or their children. Lately, requests come from repeat customers and word of mouth. I started this 'side gig' as a way to show appreciation to essential workers in my community by donating the masks I made. As the demand increased, I began selling masks to the general public to generate funds in order to buy more supplies and keep donating. It certainly feels great to know that the masks I produce are well liked and worn as intended. What keeps me going is knowing that wearing a mask might prevent someone else from getting sick. I will keep sewing for as long as masks are needed (or until my machine breaks down.) My little machine and I have produced over 1,100 masks to date, and neither of us is showing signs of slowing down. I am proud of what I do, and to support my community in this capacity."
Customer Will Bzezinski said, "Mirlene's masks caught my eye because they looked original. I am definitely satisfied with the masks I ordered, and they hold up beautifully."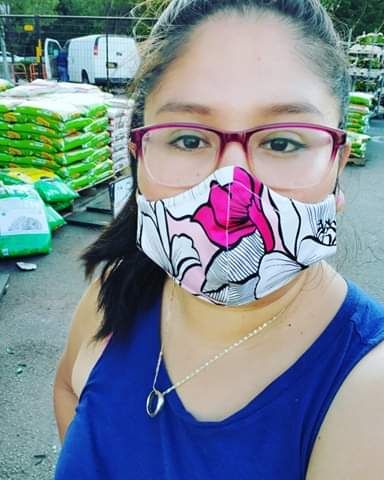 Patricia Samantha Echeverria Franco
"My Sister in Law and I started making masks together for our husbands. Eventually, we started making them for people in the neighborhood, and word got out and people recommended us. I did not have prior experience, but I do sew for myself and for my kids. My Sister in Law and I are stay at home moms. We both love sewing projects, and talked about doing something like this. You need a good sewing machine and some really good scissors. I love my community. If I am doing something that is both fun for me, and good for the community, that is a plus. I was born and raised in Queens, grew up in Corona, and now I live in East Elmhurst. My family is originally from Mexico, and came here during the early 80's. There are many ways to make a mask. It all depends on the type of style and size, pleated, non-pleated, kids, etc. All of our orders are double checked to make sure our stitching is strong, and our elastic will hold. We will do everything we can in order for you to receive a great product! It feels great to be known for something that we love to do!"
One of Ms. Franco's mask clients Li Yu commented, "I have tried masks from different makers, but the ones made by Patricia are the most comfortable, especially on hot summer days. I love the materials (100% cotton, thin ear loops). I even gave the masks as pandemic gifts to families and friends. They all say they are fantastic!"
Another of Ms. Franco's repeat customers, Karen Brito said, "So many awesome patterns and masks to pick from! I've bought multiple masks for my family and we all love them. They're well made and perfect for everyday use. I will continue to support this small business in the future."
Both Mirlene W. Wong and Patricia Samantha Echeverria Franco can be reached on their respective Facebook pages for any mask inquiries, and feel free to visit the community page 'Elmhurst 11373'.
James McMenamin is Vice President of both the Newtown Civic Association and the Elmhurst History and Cemeteries Preservation Society.