Thank you from the 104
Dear Anthony Nunziato & the Juniper Park Civic Association ,

On behalf of the New York City Police Department and the 104th Precinct, we would like to take this time to say thank you. Thank you for your strong show of support for the Police Department through these uncertain and trying times. We as a society and community are all facing unprecedented times and your kind gesture and concern for the members of the department and the 104th Precinct does not go unnoticed. We truly appreciate your acts of kindness and support. You have shown that community and policing go hand in hand. It's the people and businesses like you that bring out the best in our officers. We are proud to protect and serve this community that we proudly call the 104th Precinct.

Sincerely,

Deputy Inspector Victoria Perry
Commanding Officer, 104th Precinct
Keep the Q38 as is
The following letter was sent to Council Member Holden and JPCA was copied.
Dear Mr. Holden:

I am writing to you to oppose the rerouting of the Q38 Bus Line in Middle Village. It would be a hardship to me being that I rely on the bus 7 days a week, going to work, appointments and shopping. Rerouting the 38 would be a loss for all the people in Middle Village. Middle Village residents rely on the 38, especially on Penelope, Furmanville and Juniper Valley Road; we will be stranded. I do not have a car and rely on the 38.

The 38 was put on the route over 50 years ago with the attention for helping people getting around Middle Village, now taking the 38 route away will be a hardship for the residents. Life is tough enough.

I am living in Middle Village for over 50 years now and I feel things are changing here but not for the better; transportation should be convenient and not stressful and this commute will be horrible.

Please Mr. Holden tell the MTA to leave the 38 on its current route.

Thank you very much.

Helen Hirst
Middle Village
Getting the job done
For over two months' time at the location of the Queens Midtown Expressway (State Route 495) at 74th Street, there was an annoying, crashing sound emanating from the roadway surface as a mass of traffic passed over that site 24/7. This made it near impossible for the residents of Hillside Gardens Condominiums and other nearby homeowners, facing the highway to open windows/terraces to get fresh air during this quarantine. Since this was a New York State Highway, I contacted State Assemblyman Brian Barnwell, District 30 and explained the problem to him.  Assemblyman Barnwell couldn't have been more professional and courteous in his response and had this problem corrected within THREE DAYS.  I can't begin to express what a relief this has been to the owners and residents who can now open their windows and sleep at night while under home confinement. During the repair process it was determined that the defect was a steel joint in the roadway which needed to be replaced.  This sounded like it was more of a vehicle safety concern than just a noise complaint, especially as it could create a dangerous situation for automobile/truck traffic on a main arterial highway connecting to the Queens Midtown tunnel from the Long Island Expressway.  I have thanked Assemblyman Barnwell, but I thought it would be important for members of the Juniper Park Civic Association to know that while some people complain about the inaction or delayed action of some politicians to community concerns, there are others who take the responsibilities of their office seriously and as Mr. Barnwell has advised me, "Just doing our job…"
Sincerely,
Murray A. Latzen
Middle Village

Southern Hospitality up north
An act of kindness is a beautiful thing, especially when someone is doing something for someone else without asking for anything in return. The only concern is the well-being, health, and relief of the recipient. Giving is especially commendable when the person is giving to someone they do not know and lives a thousand miles away. And took it upon herself to address a food insecurity crisis, with boxes of provisions (food) that will last for weeks, or perhaps until the food chain is again linked up and functional.
When this crisis hit, people emptied the store shelves like savages. Shocking, stunning, that in one of the most sophisticated cities in the world, people would act in such uncivilized and selfish ways.
There was a run on food, toilet paper, disinfectants, hand sanitizer, meat, eggs, bread, butter, almost everything. People became aggressive because they wanted the same products as everyone else. It became a free-for-all. The old, disabled, and those who procrastinated were left without as the shelves were now bare. The most horrible thing, however, was that human contact implies death, and so, we could expect nothing from neighbors – regardless. To be without food in one of the wealthiest nations of the world and one of the most significant metropolitan cities for days is nightmarish.
Eating jars of pickles, stale bread, and water is not good eating. I tried to secure help from the city, waited over three weeks, and when food arrived, it was left outside of the building, and the food they delivered was outdated, several cans were over two years old. They delivered donuts, a cream cheese and jelly sandwich and many bags of potato chips and cookies, nothing healthy that a senior can eat. God help anyone with diabetes. As a senior at high risk with upper respiratory and lung diseases, it is difficult to negotiate the terrain and geography, because everything was closed and almost everything was unobtainable.
Thus, it was that by an act of human kindness, boxes of food arrived from Joe and Myra Barra of Alabama, and unbeknown to this writer, another kind-hearted Alabamian, Ms. Ramey Channell, also answered the call.
As a member of the Alabama State Poetry Society, I never imagined that in the most challenging time of this writer's life that they would aid him. I do not know, nor do I have the words to express sincere gratitude to three beautiful people, Mr. and Mrs. Joseph and Myra Barra and Ms. Ramey Channell, who showed actual acts of humanity, kindness, and caring. Something I could not find in New York City where I live. It is true; Southern hospitality is more than just a myth. It is a remarkable trait. I hope we as a nation can all learn from each other, and perhaps we can capture that spirit exhibited during 9/11 and expressed in Southern hospitality to me in a time of need. Hopefully, we can all work together–united.
Such generosity helped this writer-poet prevail. Now all is secure. Forever grateful.
Thank you.
Vincent J. Tomeo
Flushing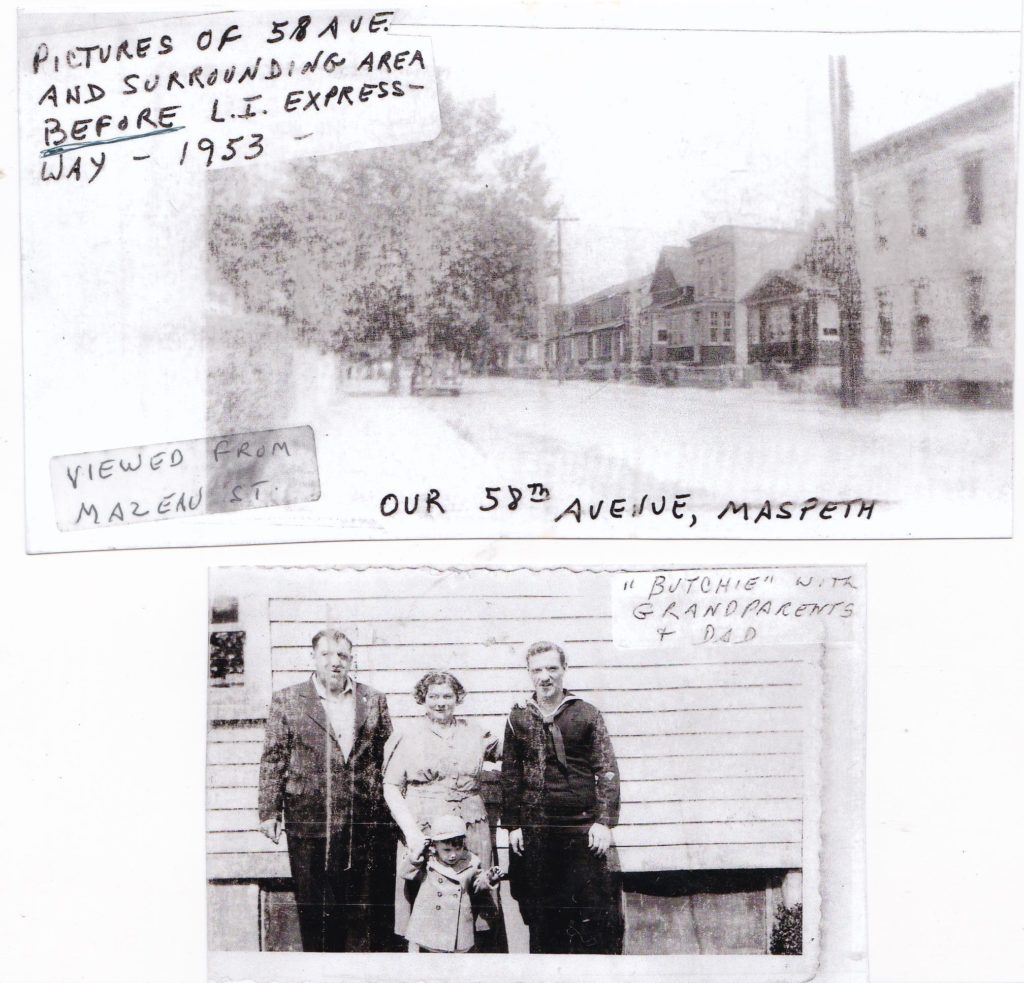 Revisiting Mazeau Street
The Maspeth article, "Mazeau, A Tiny Little Street" by Paul DeFalco, was most enjoyable and brought back many fond memories of my old home town where I was born and lived until I got married. We lived on 58th Avenue. Mazeau St. was at the end of our block. Like the writer, our Grandparents lived in the same house.
I must have walked up and down Mazeau Street hundreds of times during my years there. Maspeth was truly special to me and I loved the people and the town. I always felt secure and happy there. In fact, the song "Dear Hearts and Gentle People" often came to mind when I journeyed down that street. This was before the Long Island Expressway came through and divided our lovely home town.
Recalling our street, I still can visualize the two undeveloped lots straight ahead on each side of the street, which led to 69th Place. To the right of 58th Avenue were two stores; one was a candy store (Sadie's, I believe). Pennies and a nickel could buy a lot in those days (early 1950's). My favorite purchases were the 5-cent banana and chocolate fudge pops. Also, I recall my Grandfather giving me a quarter to pick up a pack of Chesterfield cigarettes for him. I was under age, but no questions were ever asked.
To the left side of 58th Ave. and Mazeau St., at the end of the block was an old grocery store, "Kaulwite", which we all called "Cow Whites". I can still see large barrels of potatoes, onions, pickles, etc. Our groceries were tallied up by pencil on a brown paper bag.
NOTE: I would love to see a picture and hear more about the store, if possible. It was a classic "vintage" store.
Further down that block was a neighborhood bar and grill, Jack O'Lantern's – aka "Buster Knoka's", near the corner of Caldwell Ave. A very ripe-smelling chicken market was located off Mazeau Street where our mothers went to have a fresh chicken butchered for evening supper. We kids used to run by that place holding our noses and laughing.
The writer's mention of the Ledeux Pet Shop, where we went to see the new puppies, bunnies, etc. in the window, Grand Bicycle Shop, Bohack's, and the S.E. Nichols 5 & 10 stores all brought back vivid memories. Plus, I must mention the Maspeth Car Barns which housed the trolleys, and later buses, that my Father drove up and down Grand Avenue.
Our family ties to Maspeth go way back, as both sets of my Grandparents lived across the street from each other and that is where my parents met and later married. My husband and I followed with our wedding in 1960 also in St. Stanislaus R.C. Church. Our daughter was even baptized there. Also, my brother and I both graduated from P.S. 73, as my parents and some of their siblings did.
Thank you for the superb article and for rekindling my memories of my beloved Maspeth.
Your Juniper Berry Magazine is always a welcomed treasure to read and reminisce about the "Good Ole Days".
Dolores Gluckler Cullen
Lakeville, Pa.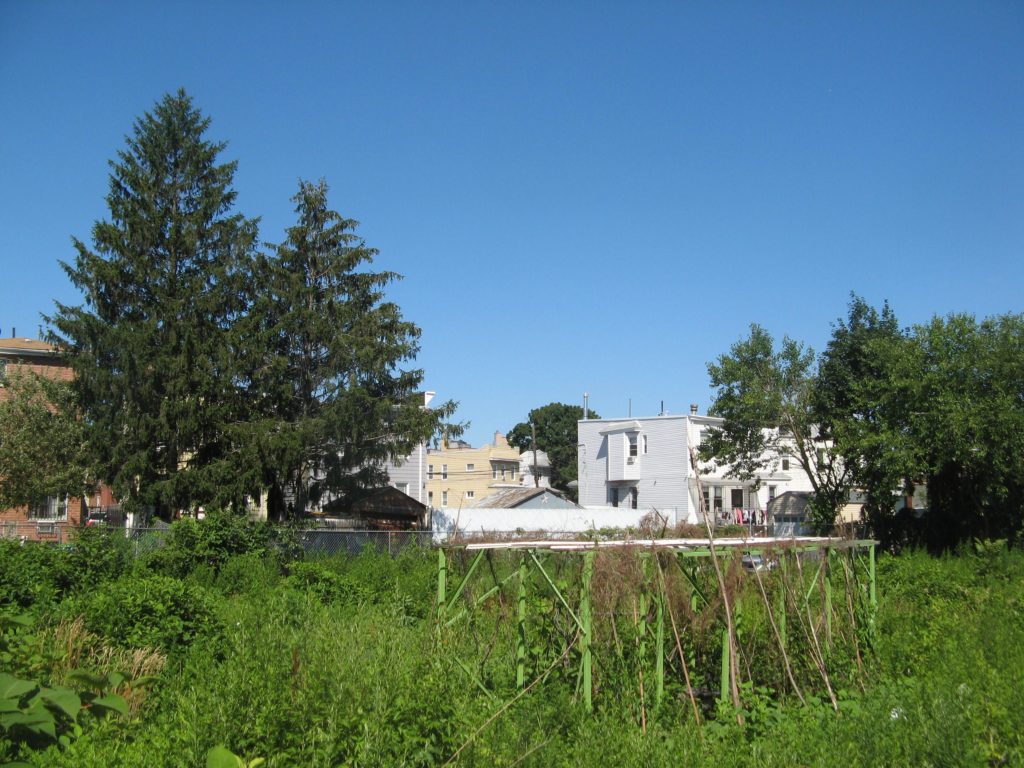 More Memories of Mazeau
I enjoyed reading the article about memories of Paul DeFalco living on Mazeau Street. He ended the story saying Mazeau was a cool name but before it was named Maiden Lane. Why was the name changed and who was Mazeau?
He also referred to the lot behind his house as a "dirt field". For generations of kids that was our playground, besides a dirt field where we played baseball there were tall trees and tall weeds where we could play hide and seek and build forts and club houses. When our parents wanted us home, they just had to yell out the back window. The lot was also a short cut when walking to Grand Ave.
Sadly, it was also used for dumping and the owners decided to fence it off but at least it's still undeveloped and a green space. The new owners have chickens and grow vegetables and the "dirt field now has crops.
Richie Polgar
Maspeth
(Paul De Falco's house is in center of photo)