This familiar view, off the 91st Pl. /Hampton St. footbridge, remains recognizable for well over a century. In this early photo above, on the left we see 90-30-90-26 43rd Ave, on property once belonging to Cord and Christian Meyer, real estate/developer magnates, who aligned the street grid in Elmhurst, and renamed many of the street and avenue names. Hampton Street was Fifth Street, and 43rd Ave was Kingsland Avenue. The Corona line of the New York and Queens County railway trolley service ran through 43rd Ave. Shown (opposite page, top) is a clear view of 24 Kingsland Ave, now 90-26 Corona Ave, and location of Elmhurst's first Bohack's; perhaps the oldest in all of Queens. The figure standing in front is identified as grocer Frederick Martin Baumbach, with the 30 Year anniversary sign indicating the picture to be 1916-1917.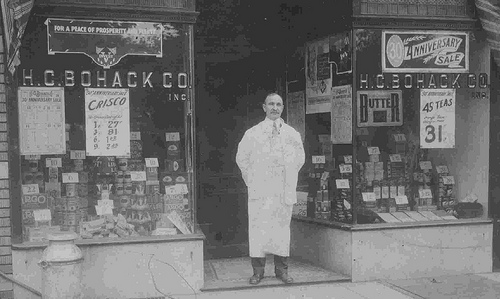 There doesn't appear to be a comprehensive list of Bohack locations; finding them is a serendipitous task. The grocery chain lasting from 1887-1977 began in Brooklyn by its founder, German immigrant H.C.. Bohack at age twenty two, and grew to over 700 locations by the time of his death in 1931. Its headquarters were at Bohack Square, at Flushing and Metropolitan Avenues in Maspeth (photo opposite page, bottom). Bohack is buried at All Faiths Cemetery. By 1940, this location, 90-26 43rd Ave, is shown to be a barber shop (photo bottom right). On one walking tour through Elmhurst, a young man questioned, "What's a Bohack's?" He then seemed perplexed by its relevance to history. Supermarkets like Bohack's, as well as A & P were very community centered; fostered relationships with staff and customers, and became kind of a social meeting place, where neighbors could idly chat about the news of the day or gossip about those they knew in common, while gripping their produce filled baskets. Though this site may be lost in time, other area Bohack's opened, 91-10 43rd Avenue, 92-10 Roosevelt Ave, Broadway and 74th Street, and 90-16 Elmhurst Avenue, Jackson Heights side.
Elmhurst native Charles "Ronnie" Kaiser, who became a butcher said, "I worked in the A &P on the corner of B'way and Whitney in 1951. Bohack's had the reputation for the finest meats. People were always satisfied."
The Elmhurst location most familiar with people was 84-20 Broadway, which opened in 1955, and lasted into the 1970's before becoming an A & P and is now a longtime Walgreen's.
"I worked there between 1969 and 1971. All of the staff I knew were very pleasant; the customers also. We gave them very good service, packing their carts, whatever we could for them. I felt the interactions were pretty personal because no matter what register I was stationed at, many of the customers knew me," said Karen Serafinko.
Mary Ann Sawka, who still lives a block away said, "First, we don't have any markets now. We were used to being friends with our market workers. They knew our families, our shopping habits, etc. We could hold conversations with them. Now, we are emotionally starved. We were so lucky. Now, I take a bus to Stop and Shop, shop sparingly, and call a cab to get home. It really sucks!"
Rachelle LaRose Sciulara, who recently left Elmhurst for Florida commented, "Bohack was great! Both my sons worked there after it became A&P. Now I shop at Publix and Winn Dixie in Florida, and meet so many transplanted New Yorkers."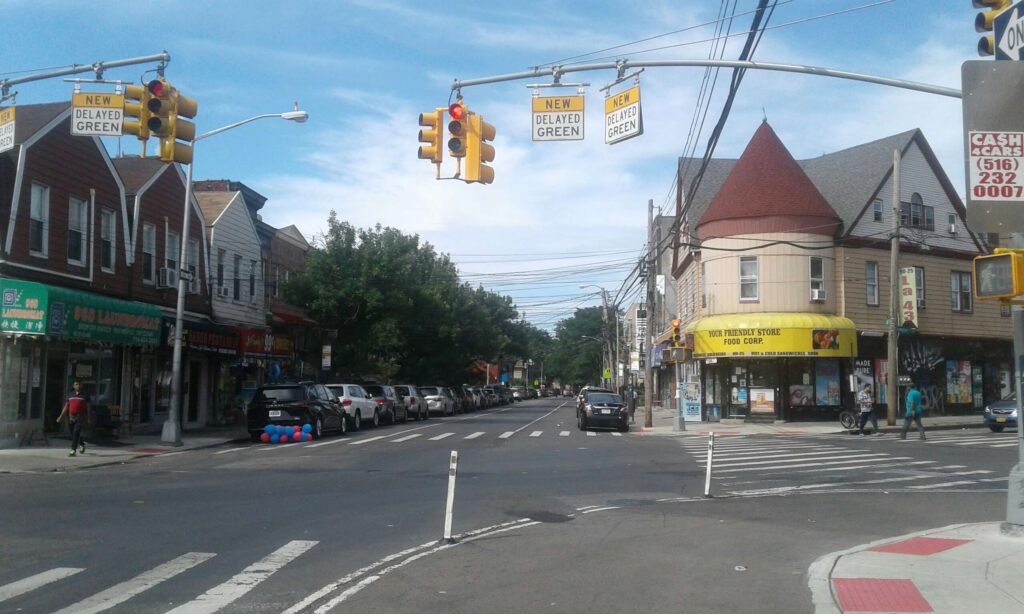 On the right of this intersection, at 90-25 43rd Ave, stands a unique structure with an ornamental cupola atop, of whose history most are unaware in that it is the very first building attributed to Cord Meyer development built in 1896. It was one of the Elmhurst sites spotlighted in the 2019 brochure by the Historic District Council. An early photo shows the area beyond this structure to be barren, while another photo shows the features of St. Bartholomew's Chapel, built in 1910, as the first church, before the grander Church was constructed on Whitney Ave in 1926. Its future faces uncertainty, as online records show it changed LLC names several times since 2005 with the same ownership, perhaps for tax purposes. The corner store has had a continuous chain of retail businesses for the public for 115 years. A land marking effort would seem an uphill climb, but is worth pursuing, although the building has morphed considerably since its inception, but certainly a plaque noting its worth to the birth of Elmhurst would be appropriate. 
Jennifer Ochoa of the Elmhurst History and Cemeteries Preservation Society (EHCPS) said, "Cord Meyer was truly a renaissance man. He brought elegance, comfortability, and affordability to the new suburbs, modernizing not only for profit but for a communal quality of life. We should landmark the cupola house on Hampton Street if only to admire its fading beauty, and remember the forward thinking and innovations of a man who made it possible for all of us, diverse in every way possible to live here."
James McMenamin is Vice President of both the Elmhurst History and Cemetery Preservation Society and the Newtown Civic Association.